IGN: "It's about 2-8 hours, depending on what you're doing. You can play Portal 2 for four hours on this thing. If you limit it to 30 fps, you're going to be playing for 5-6 hours."
That's not a heck of a long time for gaming without the device needing to be plugged in or recharged, and more demanding games will take a bigger toll on the battery than 2011's Portal 2. That could be a real issue if you want to take your Deck with you while traveling or if you're away from an electrical outlet for a while.
There's also a dock, but it's sold separately
Like the Switch, there's a dock for the Steam Deck that will allow you to connect it to your TV or a monitor. The USB-C dock will provide DisplayPort and HDMI output, an Ethernet adapter, and three USB inputs.
The dock doesn't come with the Steam Deck, it's sold separately, though Valve hasn't yet revealed how much the dock will cost or when it'll be available to order.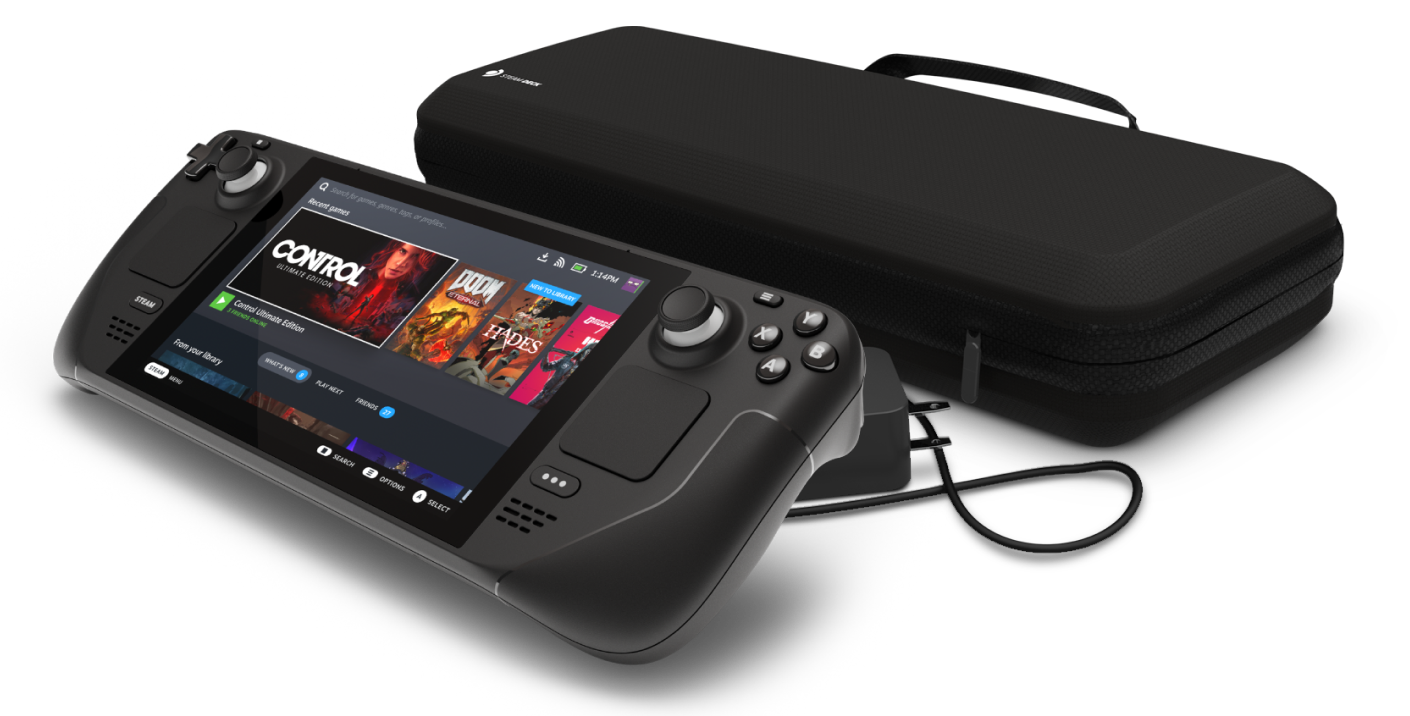 Can I use the Steam Deck for more than just Steam games?
You can—potentially a lot more. Just like your PC, the Steam Deck is intended to be an open platform. You can install Windows on a Steam Deck and even install other game storefronts like the Epic Store (you probably have a pile of free games in that library) or Xbox Game Pass. We just don't really know how well non-Steam games will work on the Steam Deck, but it's an exciting idea that you might be able to play games from your other libraries on the Steam Deck, too.
You can even wipe SteamOS off the Steam Deck completely and just use it to run Windows, according to IGN, who got some hands-on time with the device. Pierre-Loup Griffais told IGN the Steam Deck "can pretty much run anything you can run on a PC."
"We don't think people should be locked into a certain direction or a certain set of software that they can install," Valve designer Lawrence Yang said. "If you buy a Steam Deck, it's a PC. You can install whatever you want on it, you can attach any peripherals you want to it."
You might even be able to get VR working with the Steam Deck, though "that's not really what we're optimizing the performance for," Griffais told IGN.
If all that isn't enough information for you, you can visit the official Steam Deck website here.